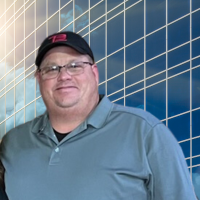 Steve Ambos
Senior Project Manager - Fabrication; Coach
When you've raised four children, all of whom are now in college well on the way to successes of their own, no one can argue that you have pretty darn good project management skills!
And when you add in over 30 years of experience in one facet or another within the construction industry, you're just a force to be reckoned with. Plain and simple.
Steve Ambos is just such a guy. From digging trenches in the 90s, to his role as vice president of operations in construction, to the operations manager at a steel fabrication shop, Steve joins our team with a wealth of knowledge and expertise that can only be gained in the trenches. He is passionate about each project's success and knows just how to make that happen.
Talk about success - Steve has been married to his wife Angie for 25 years and counting! He coached those kids of theirs in various sports throughout the years, but he and Angie now find themselves enjoying camping, golfing, and hanging out with their two dogs.
Have a detailing or fab project you're ready to start? Get in touch with Steve and find out how we can provide solutions and lead you to success.